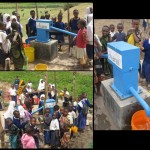 Iedere dag gaan er in Afrika waterpompen stuk. Dit is levensbedreigend voor de mensen, speciaal voor jonge kinderen. Om dit probleem duurzaam op te lossen heeft The FairWater Foundation de BluePump ontwikkelt. Een betrouwbare, makkelijk te onderhouden  waterpomp die een leven lang meegaat.
Charm heeft samen met FairWater een waterpomp gerealiseerd in Sunga in Tanzania op de GPS positie S4 31 58.3 E38 12 44.8. Het heeft even geduurd maar dan heb je ook iets. Eén BluePump geeft  40 gezinnen meer dan 25 jaar veilig drinkwater!
Informatie van de Fairwater website over het project:
Sunga is a busy place in a remote area in the Usambara mountains. The main activities are the sawmill and trading, there is a regional market every Monday. Sunga is also the capital of the 8 villages around, grouped in the Ward Sunga. For the 1200 villagers there is one private owned pump available but this one is situated far outside the village.
Yahaya Selemani, water pump manager and chairman from Sunga: "A water hole was available in Sunga Village before the pump, but community members waited in line for 1 ½ hours to get one bucket of water." Alfani, another villager of Sunga: "life is easier now since I can get water without long walks up and down the mountains." Selemani: "Without long lines, people have more time for their jobs. Each house is paying 300 shillings per month to maintain the pump." Brad Elder, physicist and guest of MamboViewPoint: "People take much more pride in it (work and final product) because it's theirs, as opposed to something that's given to them."
Ali, director of Jamiwater: "After placing the pump it appeared that the filter down below in the pipe was not good enough and sand was blocking the bailer. It made a new borehole necessary where we put jute around the pipe to filter better. Also we used smaller gravel which had to come all the way from Tanga"

Brad: "Clean water is the number one determinant of whether or not you'll live to die of old age. Everything else is icing on the cake. I went to the pump sites with Herman many times and was impressed to see hands-on how the pump project worked."

The pump is sponsored by Charm and Ralph Tuijn who biked from Cairo to Cape town to raise money for the Fairwater pumps.